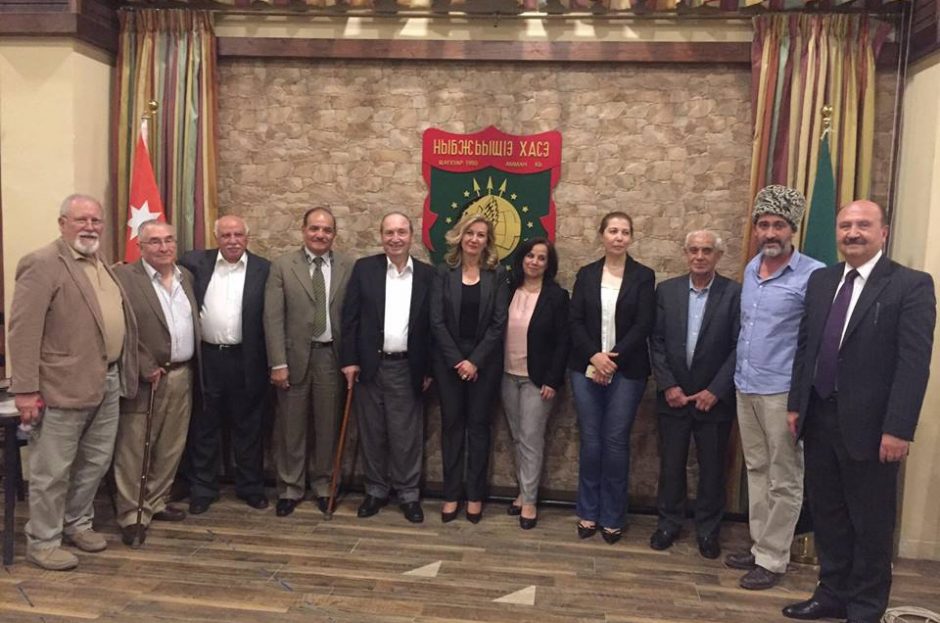 The CRO in Jordan
The CRO has carried out a declarative campaign in Amman City in the Hashemite Kingdom of Jordan between 10 and 15 of October 2016, through which some of the administrative board members has made a declarative meeting concerning the Organization in the presence of some active circassian institutions working in the public interest in Jordan, which are:
Jordan Association of Caucasus Circassian Freinds
The Circassian Charity Association , main department
The Circassian Charity Association , women department
Kuban NGO
Prince Hamza School
Club Alumni of Universities and Institutions of Nalchik
Through these meetings, it has been stated the reasons why this organizations was established; these meetings also aimed to make people acquainted with it and its ten targets and future prospects.
A public meeting also took place including a number of the Circassians in Jordan at Thursday evening on the 13th of October at Aljeel Aljadeed Club in Amman where a presentation was stated dealing with the activities of the organization, its goals, and recent achievements.
Amongst the gathering, there were a number of overlords of the Circassian Community in Amman, members of the Circassian Tribal Council, a number of representatives of a Circassian events such as Kuban NGO and Club Alumni of Universities and Institutes of Nalchik, a number of notable businessmen, and an elite of the Circassian Community in Amman.
The presentation included a variety of questions about the importance of the Organization role in such times and how to develop its working mechanism.
The presentation concluded by an auction where some Circassian handmade stuff and paintings were sold to support the Organization Programme about the small grants business of this year.
The CRO administrative board would express its thanks to all those who contributed and supported this event, ad it is also most grateful for Mr. Hameed Abzakh , the administrative board member, for his efforts to organize and coordinate this event. The CRO also thanks the Organization members in Amman: Mr. Muhammad Shuaib Hamzouq, Mr. Issaq Moula, Mr. Amer Dakhqan , and Mr. Fouad Kashouqa for their efforts to support this meeting , and also the Organization thanks Rayan Bater for all her efforts in this meeting.
The CRO thanks the directors of Al Jeel Aljadeed Club for their generosity and hospitality , and thanks Mr. Amjad Lambz for presenting this meeting and also thanks Mr. Yanal Ansouqa.
The CRO expresses its appreciation to Mr. Kamal Jalouqa for managing the auction on the painting tendered by the Circassian artist Guseruko Mahmut Kocher, who live in Turkey, in order to support the Organization Programme concerning the small grants business.
The CRO expresses its profound gratification to the Circassian Tribal Council members for their presence , moraland financial support and also thanks all the representatives of the Circassian institutions in Jordan for their presence and generous support.
About the Author
Related Posts
More From This Category