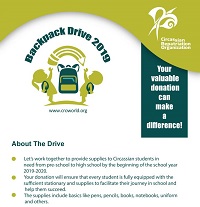 The CRO Backpack Drive 2019 Campaign
The CRO Backpack Drive 2019 Campaign
In accordance with the Circassian Repatriation Organization (CRO)'s vision and objectives, the CRO launched a new pilot project aimed at supporting students and their families to cover school expenses.
This pilot project was tested this year in the Circassian Republics of Kabardino-Balkaria and Adygea. In the future, the CRO is hoping to develop this program to support Circassian students everywhere through a permanently established program.
The 2019 Backpack Drive Program was carried out by a team of volunteers from different Circassian communities and the campaign started on Feb. 20, 2019.
The campaign was directed by the following campaign coordinators and their teams:
Nassouh Appesh (USA),
Mohamed Khair eddin Abzakh (Jordan),
Majd Qat Abaci (Turkey),
Yahia Touk (Germany)
and Sawsan Napso (Kafar Kama).
Tina Abzakh acted as the General Manager of the Campaign.
The Program team made a list of school necessities for elementary through high school students and estimated the cost of these essential items.
They also put together a list of students who are qualified under this program from three different localities: Kabardino-Balkaria, Maikop, and Penakhas. The list included, 103 students from Kabardino-Balkaria, 34 students from Maykop and 40 students from Penakhas with a total of 177 students.
The coordinators were given the freedom to choose the appropriate activities in their countries to raise funds for the program. As such, different activities were organized, such as artistic activities, direct fundraising campaign on social media such as Facebook, and door-to-door fundraising campaign.
The campaign team in NJ, USA that was led by Mr. Nasouh Appesh, Mrs. Nada Abeda and mr. Badreddin Youssef and raised $12,105, so far by carrying out a door-to-door fundraising campaign.
The team in Turkey managed to raise 4,500 lira and $600, so far. Moreover, they prepared a short video for the campaign.
The team in Sweden raised 2600 crowns.
Some Videos about the Campaign
---
---
About the Author
Related Posts
More From This Category