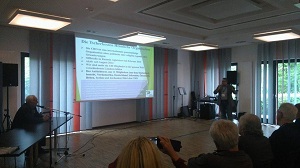 CRO in Germany, the CRO vision , challenges and Achievements
The CRO participated in the annual meeting which was held in Cologne in Germany on the 15TH April 2017, for the Circassians in Europe In this meeting, both of the Chairman Dr. Orfan Soukar Stash and Mr. Yahia Touk the administrative boards member represented the CRO. Dr.Orfan presented elector " lecture" titled (the CRO vision , challenges and Achievements). In this lecture, a presentation was made of the CRO, its objectives and the process of launching CRO since its establishment in 2014, and what has been accomplished so far. Also, a video was presented that includes a meeting with some of the beneficiaries of the small-enterprise support program which was launched by the organization in 2015 initiative, thus financing small projects for returnees to the motherland with unprofitable loans. Some of the difficulties that faced the Organization also were mentioned. After the presentation we met quests, and we exchanged some ideas with many personalities and Circassian activists such as Dr.Ihsan Salh Dr.Faidy Barsbay , Mr. Farouk Tamzouq; and with some chairmen of the circassian Associations in Germany, We also had the honor to meet Mr. Askar Soukht who came from Adygea Republic. We discussed the possibility of establishing a bransh of CRO in Germany. Mr. Farouk Tamzouq promised to proceed with the procedures and open an office of organization in Germany and manage it. In addition, new members signed in to join the CRO.
CRO would like to thank the Circassian Association in Cologne for hosting and organizing the events.
 you can hier watch the full presentation 
About the Author
Related Posts
More From This Category