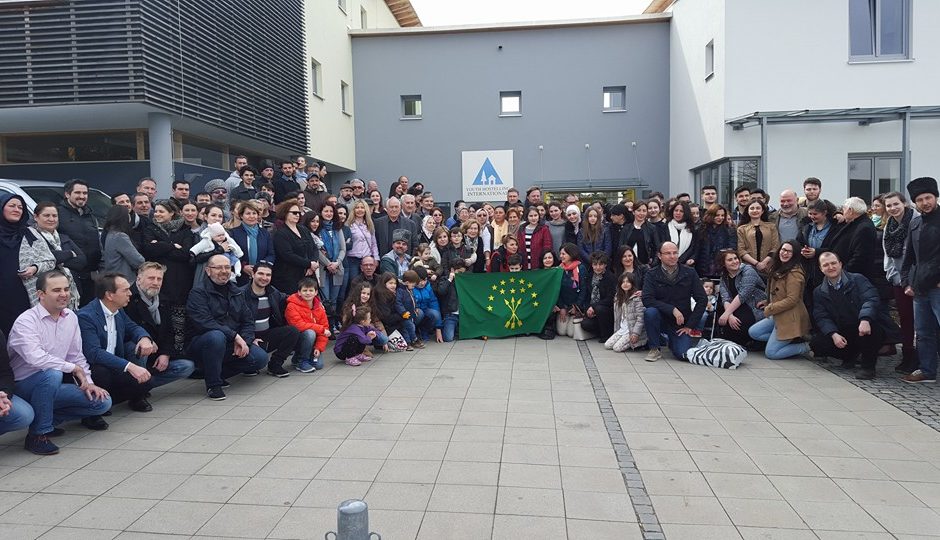 The Circassian Repatriation Organization has taken part in the Circassian-European cultural meeting
The Circassian Repatriation Organization has taken part in the Circassian-European cultural meeting,  which was held in Munich on the 25th -27th of March 2016, with the participation of its head of board Dr. Orfan Shoukar Stash , and Mr. Yahia Touk: as one of theboard's directors.
The meeting was attended by the president of the Federation of the Circassian Associations in Germany Mr.Farouk Tamzouk, heads of the Circassian associations in Colin , Munich , Berlin,representatives from some other associations, as well as; Mr.Fathie Rajab from Netherland and Mr.Valodia from the Rodina association inhomeland.
Also, artists from Mykop ,Adighya such as: Azamat Byshtov and Marat Beslaneh have attended the meeting, along with some other members from the Circassian community in Germany.
In his speech, Dr. Orfan introduced the organization's vision and mission, goals and the achievements so far sinceits establishment, which was presented in Circassian and was instantly translated to the German language by Mr. FarukTamzok.
Dr.Orfan gave a brief summary of the work done, activities planned and achievements accomplished so far in supporting Circassians interested in returning back to their motherland,he also mentioned the campaign that was launched at the organization's first annual anniversary, which embraced the idea of helping returnees to start and establish their own business & small projects, while offering them loans to help them settle down in their homeland. He also emphasizedon the importance of sustainability of the efforts and workthat are done by the organization, through the opening of new applications for small-scale projects for the year 2016.
In addition to the other activities accomplished by the organization, it also managed to adopt a number of Circassian orphans; whom were victims of the latest war in Syria. Dr.Orfan stressed on the need for a strong collaboration between Circassians in all over the world and the importance of working together and hand in hand in preserving the Circassian civilization, culture and language from extinction and in order to be able topave the way towards a better future for the young Circassian children, youth and the coming Circassian generations.
The organizationhas contributed in the event with a small booth, which displayed Circassian products, handicrafts & goodies, in which the return of its profit went to supporting the small projects sponsored by the organization.
The meeting was afruitfulone and the organization is looking forward towards a new cooperation with other associations in Germany in the coming future and to be able to help the Circassian community more as a whole.
At the end, the organization wants to express their great gratitude and appreciation to both;Dr. Faydi Barsbay and Mr.Sybay Taloustan for their ultimate help and support in making the meeting a great success.
About the Author
Related Posts
More From This Category