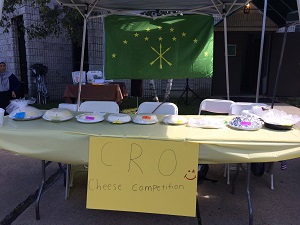 The CRO takes part in the annual meeting of the Circassian Community in USA
The CRO takes part in the annual meeting of the Circassian Community in USA
The CRO participated in the annual meeting of the Circassian Community in USA which was held on the 9th of this September.
Dr. Orfan Shouakar Stash (Chairman of the CRO), Mr. Nassouh Appesh (Chairman of New Jersey branch), and Mrs. Joulnar Mousa (CRO member from Canada) represented the Organization along with other members.
The chairman of the CRO, Dr. Orfan Stash, stated on some points about:
The importance of having a circassian organization ready to provide assistance to the circassian community in times of war and calamities.

Assert the fact of (the strength of the Organization is related to its members) and thus it should be noted that joining the Organization will direct the attention of the international organizations to our cause; as we were always asked about the number of members in the CRO wherever we tried to contact these organizations.

To continue funding the Small-Grants Businesses Program for the returners to the homeland; and how the program played an important role in supporting them to settle.

To ensure the right of repatriation as a legal right and consider it a personal matter for those who would like to return without any interference or force.
During the meeting, the CRO granted Certificates of Appreciation to a number of financial supportive members and volunteers who worked with the Organization in the last years.
Also, a video has been presented interviewing those benefited from the Small-Grants Businesses Program and how these loans supported them in their projects.
A competition for the best circassian loaf cheese was organized and among the 10 participants Mr. Nart Mamtouq won and was awarded a prize for his best loaf cheese.
Also, some hand-made works from Kavkas were sold to benefit from the outcomes to finance new small businesses in 2017. Brochures were distributed during the meeting to define the Organization work.
The CRO was able to collect an amount of $ 2276 Dollars from donators. Also, 10 new persons registered for membership.
Here you will find the circassian cheese competition video:
About the Author
Related Posts
More From This Category