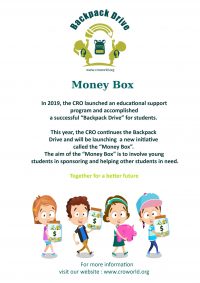 "The Money BOX" Campaign
The CRO is pleased to announce a new campaign called "The Money BOX" which is part of the "Backpack Drive" Program that was successful last year and managed to benefit 178 students.
"The Money BOX" Campaign is designed to encourage Circassian students to learn how to be supportive to each other and to their community.
This year the program is aiming to support 240 students in the homeland and 550 students in other areas outside the homeland.
Participating in this campaign is a great way to build bridges with the motherland, educate kids about cooperation and most importantly promote happiness. The positive feedback that a child receives when giving is a wonderful contribution in developing a healthy and caring adult.
So, be part of this great initiative and encourage your kids and grandkids to participate in this noble initiative.
For donations, please click on the Paypal link below:
About the Author
Related Posts
More From This Category