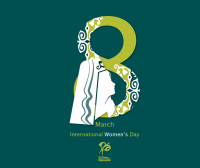 International Women's Day
Women have always acquired a high standing in the Circassian culture. Circassian myths and sagas place them on an elevated rank, praising their beauty and elegance, as well as their wisdom and ability to bring about peace. Their presence alone had the power to settle and resolve any conflict. Hence, the significant role that women play in our society cannot be overlooked, whether they are mothers who have raised generations or hardworking women that have excelled in their fields of expertise. While many Circassian women have attained immense achievements in academia, health, society, and entrepreneurship, others are still fighting to obtain their equal rights in society.
The CRO always strives to ensure the active female representation in its board of directors, committees, programs and activities. In recognition of their key role in preserving the Circassian identity, language, culture, as well as their community service, the CRO has dedicated the "Satanay Award" as the annual appreciation award that recognizes distinguished female individuals or groups who made exceptional contributions to the Circassian community.
Our gratitude, appreciation and respect go to Circassian women and to women all around the world today and everyday. Happy International Women's Day!
About the Author
Related Posts
More From This Category