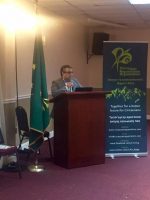 CRO in Adiga Day in New Jersy 2016
"Together for a better future for Circassians"
For the second year in a row, the Circassian Repatriation Organization has participated successfully in the Annual Adigha Day celebration that takes place in New Jersey, U.S, thanks to the great efforts of it's members, and the warm welcome of the CBA, it's board of administration, and the whole Circassian community.
The CRO presented it's activities, goals, and the development projects its working on in the homeland.
In it's aim to mobilize the Circassian community, the CRO had encouraged the youth to take part in its activities, and to be more involved in planning it's future programs.
A sale of some art work took place during the event, with all proceeds going to the small business support program for the year of 2017.
Many thanks to the Circassian artist Mwafaq Katt for donating one of his paintings that was sold in an auction.
A big thank you to Marian Ismael, a Circassian artist living in Nalchick who had designed and made a very special decorative piece of art to be sold in this occasion.
The CRO extends it's deepest appreciation and heartfelt thanks to the CBA board, to Mr. Marwan A.Sholakh, the president of CBA
And to Mr. Nart Issa, the Vice President, for their continuous support of the CRO's annual participation in the Adigha Day.
A special thank you goes to Dr. Samir Stass, for his continuous support through purchasing and always, art work from the auctions held by CRO.
Many thans also to the wonderful members of the CRO for all their hard work and great efforts to bring this participation to a huge success: Zawer Barspay, Safwan Helmi, Nada Abeda, Inal Wajoukh, Nart Majagah, Nassouh Appesh,Ilker Sezen and Batter Kadkoy
Thank you to the volunteers who helped: Zaya Kadkoy, Inal Shoukar-Stash, Anzor Shoukar-Stash
Thank you to every Circassian community member for your support and encouragement of our mission.
About the Author
Related Posts
More From This Category