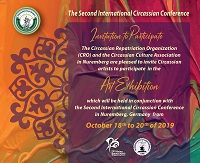 Invitation to Participate in the Art Exhibition
Invitation to Participate
The Circassian Repatriation Organization (CRO) and the Circassian Culture Association in
Nuremberg are pleased to invite Circassian artists to participate in the Art Exhibition which will
be held in conjunction with the Second International Circassian Conference in Nuremberg,
Germany from October 18 th to 20 th of 2019.
For details please visit the link https://www.croworld.org/conference-exhibit
Terms of participation:
1 – Participation is open to all Circassian artists.
2 – The subject or theme of artworks is open-ended, with the freedom to use any materials and
techniques. The minimum requirement is the representation of Circassian identity in the
artworks.
3 – The number of artworks that the artist can submit depends on the dimensions of his/her
artworks, bearing in mind that the dimensions of an artwork shall not exceed 120 x 60 cm.
4 – All artworks should be ready for presentation (e.g. the artworks cannot be accepted on paper).
5 – Artists should send pictures of the artworks they would like to submit with the name of each
artwork, its dimensions and a biography of the artist, no later than sept. 15 th , 2019, to the
following email: info@croworld.org
6 – The committee will select the artworks that will be displayed in the exhibition (based on the
number of participants and the dimensions of the artworks). The participating artists will be
informed in order to send in the original artworks along with an identification card, where the
artist will record the details of his/her artwork (artist name – artwork title – artwork dimensions –
price of artwork).
7 – A brochure for the exhibition and participating artists will be prepared for distribution during
the conference.
8 – Artists can also submit handcrafts representing Circassian identity.
9 – The exhibition will deduct 30% of the generated revenue from selling the artworks.
10 – The Organization is not responsible for the cost of shipping the artworks to and from the
conference.
For more details and clarification on the quality and quantity of artworks to be submit, please
contact the following email: info@croworld.org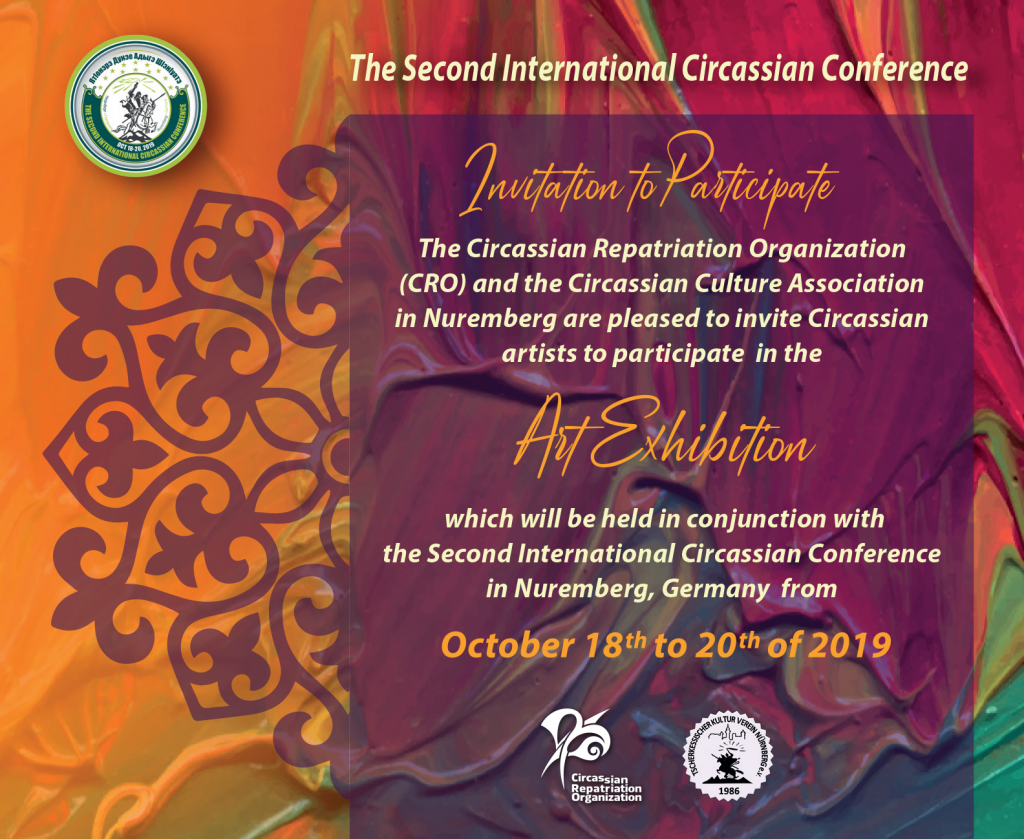 About the Author
Related Posts
More From This Category