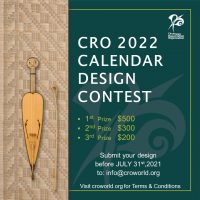 An invitation to participate in the CRO 2022 Calendar Design Contest
An invitation to participate in the CRO 2022 Calendar Design Contest
Driven by its role in supporting our youth, highlighting and promoting their creative work, the Circassian Repatriation Organization launches the CRO Calendar Design Contest for the year 2022.
The CRO will distribute the printed calendar, as done in the past year, and the profits will go to support the CRO charity projects.
The deadline for submitting designs is July 31, 2021.
Terms and Conditions
The contest is intended for individuals and open to all ages.

The contest is not intended for design offices, companies, and associations.

A group of individuals can work together, and if they win, the group will only receive one prize.

A participant can submit two designs at most.

Winners may be required to make some modifications or additions to their winning designs.

The CRO maintains the intellectual property rights for the winning designs, and the CRO has the right to, fully or partially, dispose of them in the form it deems appropriate, now or in the future. It is not permissible to retrieve these designs or demand compensation for any reason whatsoever.

The CRO reserves the right not to select winners in the event that the CRO considers submitted designs are not suitable.

The participant undertakes that their submitted design is original and not copied from other designs, in part or in full.

The CRO is not responsible for the incomplete or late submission that results in the inability to open or amend the submitted design files.

The CRO reserves the right to cancel or withhold the award at any time due to fraud or intellectual theft.

The participant shall fill the Application of Participation.

The participant shall submit a Resume of not more than 100 words.

Designs are submitted via the CRO email:

info@croworld.org
Technical Conditions
The calendar comprises a cover, 12 pages for the months, and a final page for the CRO information.

See the attached file for the contents of each page.

The design is vertical

Paper Size: A4 + Bleed: 3mm (Artwork size 216 x 303 mm)

Resolution: 300dpi / inch

Colors: CMYK

The design is submitted in two files:

Editable vector graphic PSD file.

JPG file.
Design Considerations
The distinguished Circassian character.

Design is original and is not copied from other designs.

Design should be exceptional and attractive.

Photos used are original and not copied.

Design is flexible to allow printing in different sizes or to add some details and colors.

Design does not contain informational or promotional materials for any party.
The submitted designs will be evaluated according to:
Topic

Quality of Design

Originality

Creativity

Technical aspects
Contest prizes
1st Prize $ 500

2nd Prize $ 300

3rd Prize $ 200
For any inquiries, please contact us via our e-mail: info@croworld.org or any of the CRO's social media pages.
About the Author
Related Posts
More From This Category