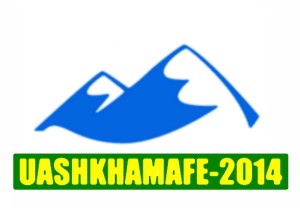 Project «UASHKHAMAFE 2014»
Project «UASHKHAMAFE 2014»
Project «UASHKHAMAFE 2014»
PO "ADYGHEHEM YA DUNEY" ("АДЫГЭХЭМ Я ДУНЕЙ"\CIRCASSIAN WORLD)
Dates: 16.08.2014 ― 28.08.2014. Location\venue: the Russian Federation, Prichernomorskaya Shapsugiya– rally across the territories of: Krasnodarskiy krai, republic of Agygeya, Stavropol region, Karachaevo-Cherkesskaya and Kabardino-Balkarskaya republics — Elbrus area. The object of the project: to attract the attention of Russian and global public to the cultural, linguistic and spiritual disunity of the Circassians — people who once inhabited the area of the Northwest Caucasus.Number of participants: 50 people. Goals and Objectives of the Project:
Attracting the attention of the world to tourism objects in one of the most beautiful places of the Russian Federation — the North Caucasus.
Promoting spiritual and cultural unity of the Circassians through a joint climb to the highest peak of the Caucasus and Europe Iuashkhamafe (Elbrus).
Promoting return of the Circassians to their historic homeland.
Popularization of the two main dialects of Circassian language among the Circassians.
Restoration of cultural and historical heritage of the Circassian people through memorable visit to the historical places significant for the Circassian nation.
Ideology: The program aims at creation of a platform of live communication among the Circassians living in the Russian Federation and foreign countries, as well as the establishment of cultural relations between them. The Circassians from diasporas will get a real chance to explore their historical homeland, to visit sacred historical places for the Circassians. The Organizers of the project say that Syria has been ongoing armed conflict for the fourth year in a row, and the Circassians, our brothers and sisters, got unwillingly involved in it. Project participants want to give moral support to their compatriots in the zone of armed aggression and commit their project to savior of the Circassians in Syria and to return to their native soil. They hope to draw the attention of the Russian authorities to the organization and implementation of the visa facilitation for the Circassians who wish to return to their homeland. There is a real possibility- with the participation of the state structures of different levels -to create special programs for teaching Russian – the state language on the territory of the Russian Federation, assistance in finding jobs, housing, etc. Implementation of the project as a whole will: create a positive reputation of the Circassian community in the world, bring approval from people at large and draw attention to tourism in Adygea and Kabardino- Balkaria. Public organization "Circassian World" hopes the project will help to show global community the depth of the problem from spiritual, linguistic and cultural disunity of the Circassians and will help to restore a positive image of a Circassian in the eyes of Russian and global community .
Members of the Organizing Committee
| | |
| --- | --- |
| 1. | Expedition leader Beslan Teuvezh |
| 2. | Deputy Head Zaudin Dzhydzhy |
| 3. | Deputy Head Shalih Coble |
| 4. | Physician Larisa Khadipash |
Levels of the event:
Date

Event

Venue

August 16, 2014
Gathering, meeting, accommodation of the participants, gala dinner
Bolshoy Kichmay village
Overnight stop in Bolshoy Kichmay village
August 17, 2014
Official welcoming speeches, a hike to the tulip tree, a moment of silence on the Black Sea shore, the start of the rally
Bolshoy Kichmay village
August 17, 2014
 First stage of the rally — a trip to Panahes and Afipsip
Panahes, Afipsip
Overnight stop Adygeysk
August 18, 2014
The 2- level of the rally:
– Adygeysk Memorial to the flooded auls Maykop -Mafekhabl Meetings with representatives of public organizations, Adyghe Khasa and repatriates Gala dinner Djegu- Adygeysk — Maykop — MafekhablOvernight stop in MaykopAugust 19, 2014The 3 stage of the rally: — Shkhaschefyzh or Hodz Ali Berdukovsky — Cherkessk — Nalchik Meeting with Circassian horsemen before entering Nalchik Gala dinner Djegu- Shkhaschefyzh  – Ali Berdukovsky Cherkessk — NalchikOvernight stop in NalchikAugust 20, 2014Trip to Elbrus areaElbrus areaOvernight stop in Alpina Hotel and in Priyut 11 until the climb is overAugust 21, 2014Acclimatization hike to the glacier -Irik.Alpina
Overnight stop in Alpina
August 22, 2014Alternative variant of the mountain-climb to Tcheget or waterfall Devichii KosyAlpina August  23, 2014climbing by cable car up the slope of Iuashkhamafe, overnight stop in the campPriyut 11Overnight stop in Priyut 11August 24, 2014training climb to Pastukhov Rocks depending   on the readiness of the group of climbersPriyut 11 August 25- 26, 2014climb to the top of Iuashkhamafe, depending on the weather conditions, down to the place of encampmentPriyut 11 August 26-27, 2014Returning to Nalchik, gala dinner DjeguNalchikOvernight stop in NalchikAugust 27-28, 2014completion of the program, farewell leaving of the project participantsNalchik Project participants:  The Circassians from the Russian Federation, Turkey, Israel, Syria, Jordan, USA, Germany, France, Holland and others.  Financing: The project is financed by the participants. For those who need a visa, we offer assistance in its issuing. Necessary items and travel expenses to the place of destination and back, as well as food and accommodation are at the participants' expenses. Estimated amount is about $ 1,000.   List of needed items: ― passport; ― air /railway tickets; ―it is highly recommended!! to take adyge fashe, adyge sae, adyge nyp, adyge pschyne, phek1yk1, photo- video equipment ― running shoes for trekking (for acclimatization hikes and mountain shelter); ― flip flops, shower slippers; ― warm jacket; ― waterproof and windproof jacket and trousers; ― warm sweater; ― thin sweater; ― longsleeves (2-3 pcs); — shorts, sport pants\sweat pants; — thermos; — sunglasses;Our website:  www.umaho.ru
Find us on Facebook:    http://www.facebook.com/umaho   Our contacts:
1. Beslan Teuvazh          https://www.facebook.com/teuvazh
tel: +79651822552               +79268487134         Skype: teuvazh2         email: beslan79@teuvazh.ru
2. Larissa Khadipashhttps://www.facebook.com/larissaadyge
tel: +7 985 997 5133               Skype: siestsbonita                email: lorasalsa@mail.ru
About the Author
Related Posts
More From This Category